2018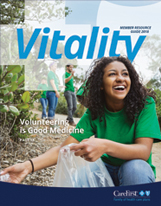 Learn more about using your health plan, including key terms and definitions, wellness resources, ways to save, your rights as a member, important contact information and more. View the PDF version
In this issue:
How Health Insurance Works
Understanding Your Medical Benefits
My Account-Your Complete Online Resource
Volunteering is Good Medicine
Interested in wellness tips and great resources for living healthier? Sign up for our monthly health e-newsletter today.

Viewing and printing this document requires Adobe Acrobat Reader, which can be downloaded free from the Adobe site.