Due to an upgrade to the CareFirst Broker Portal, on 1/6/2023, your current password will need to be reset using the "Forgot Password" link on the login page. Should you have any issues please use the Help Desk number on the login page for support.
Diabetes Cost-Share Benefit
Living with a chronic condition like diabetes can be overwhelming. And the high cost of insulin and supplies can make managing the condition challenging. To better support our members with diabetes, CareFirst now includes an enhanced diabetes benefit as part of most medical plans. Members will pay $0 for preferred brand insulin and diabetic supplies, even before they've met their deductible. This includes members with an HSA-qualified high deductible health plan (HDHP).*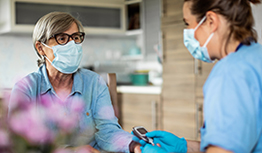 Visit our member page for more information on all of CareFirst's support programs for diabetic members.
* This benefit is available to CareFirst members with fully insured group or individual plans and select self-insured groups